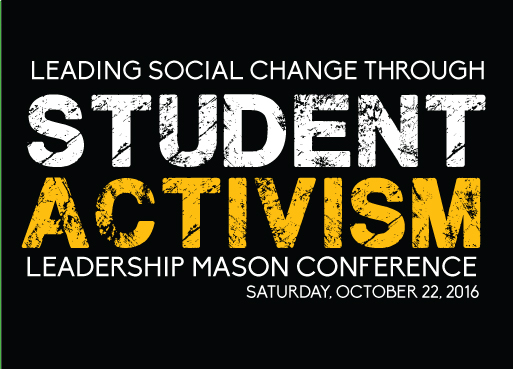 CALL FOR PROGRAMS:  To submit a proposal for this year's Leadership Conference, click here.  The deadline for conference proposals has been extended to October 10, 2016. 
This year's Leadership Mason Conference is a one-day program focusing on leadership skill development through large group and small workshop formats. Students enhance the leadership skills they already have while gaining new skills that will benefit both now and in the future. This year's theme is Leading Social Change Through Student Activism. This conference is for ALL students who are interested in how they can help make positive change in their own lives and the lives of others. You do NOT need to be a student activist to attend.
This year's conference will focus on leading social change through student activism. Students will have an opportunity to engage with one another in a thought-provoking, interactive learning environment that will challenge students to think critically around various aspects of the social change model as it connects directly to student activism and leadership. Students will have a chance to select from a variety of breakout sessions that will focus on areas of social justice, intersectionality of identities, social movements, understanding of the dynamics of power, privilege and oppression, ethical leadership, student advocacy, as well as systematic structures and policies that exist that impact student resiliency and well-being.
As a result of participating in the 2016 Leadership Mason Conference, participants will be able to:
Engage with conference participants in discussions around leadership, social change, and/or student activism
Identify at least one new relationship that they established while participating in the conference
Describe at least one way that they help make positive social change
Define the differences between activism, advocacy, and organizing
Demonstrate at least one way to be a good ally or part of a support system
Identify two or more components of the social change model and how it connects directly to student activism and leadership
Recognize who allies are and what a support system looks like
Articulate a clear understanding of the multiple approaches to ethical decision making (5C's – Character, Code, Consequence, Care, and Consult)
The conference planning team is looking for students, faculty, and staff who are interested in facilitating a workshop for students that will focus on leadership and how it connects to 1 or more of the following components:
social change model
social justice
intersectionality of identities
social movements
understanding of the dynamics of power, privilege and oppression
ethical leadership
student advocacy
resilience and self-care for student activists
systemic structures and policies